Xenix:Micro
免费价值RM520的机器人学习配件!
是的 ,你没看错,是免费!

YES ! It's FREE !🎁🎁
Xenix Robotics Workshop 位于甲洞区Wangsa Permai
全马第一家专业人形机器人工作坊 为您孩子独创的机器人学习课程
我们可以帮助!我们把教材送到您家门口 让孩子线上

网络上课 时间自由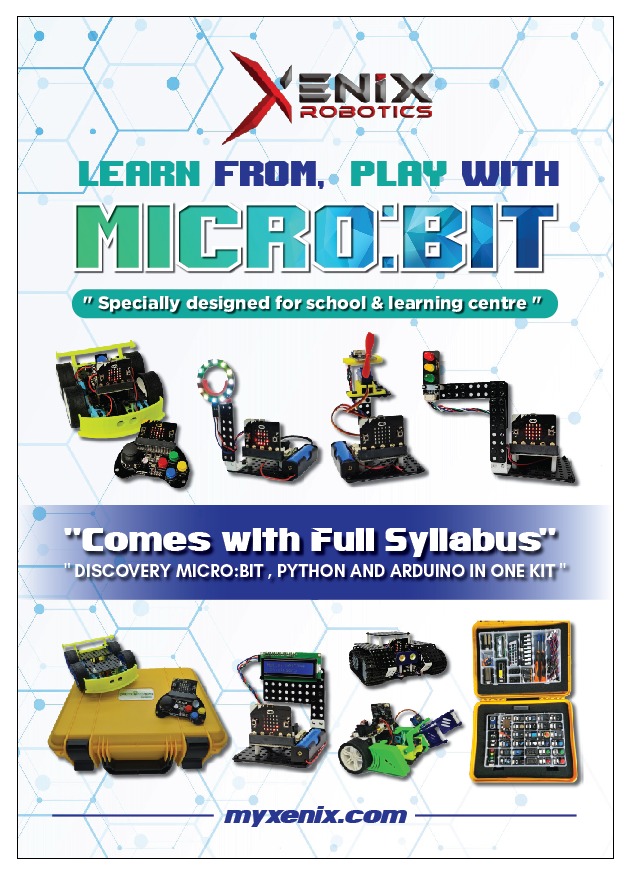 THE XENIX:MICRO ROBOTICS LEARNING KITS 
Xenix:micro结合英国制造的

micro:bit

而改良的。是一套专属给孩子学习程式的好配件。目前全世界已有超过一百万学员正在学习micro:bit学习编程与多元的STEAM创作。Micro:bit 内建许多耳熟能详的科技装置,如蓝牙装置,Micro USB连接口等等装置,能给孩子同时学习程式和电子知识的微型电脑,连贯了学习软件 + 硬体
的应用,让孩子的程式学习不再只是局限于软体平台上。🎯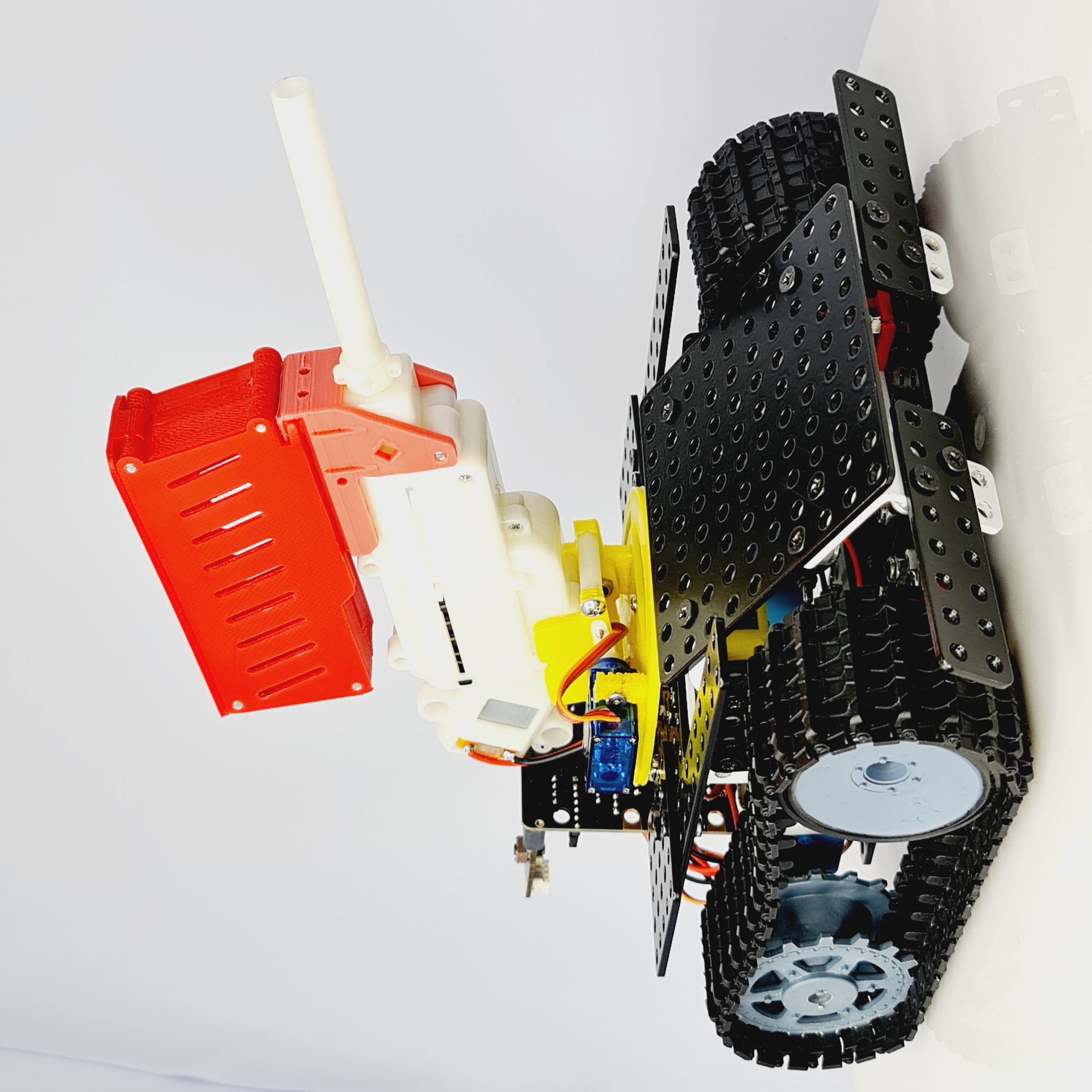 Xenix:micro
是专为现代的年轻人而特别设计的机器人学习配件。Xenix:micro结合了STEAM ( Science, Technology, Engineering, Art & Mathematics )教育理念,在学习的过程中 ,学员除了学习机器人的概念,从中也能学习设计机器人,组装模型,电子知识,电脑基本知识及更多

。不但如此,学员还有机会在课程里同一时间学习中心特别研制的机器人编写程式,课程里的编写程式包括了

micro:bit的Scratch coding, Python coding及Arduino programming

。全都在一个课程里。
Xenix:micro的概念是让学员有着完全独立的创造与设计,不受课本或课程的限制, 制造完全属于自己设计的机器人模型或小车。让家长不再需要购买昂贵的学习套件。就能使用xenix:micro长达

两年或更久

。
在这独一无二的机器人学习配件里 ,

学员可以根据STEAM ONE 至 STEAM FOUR
的课程,从零到国际比赛的知识

。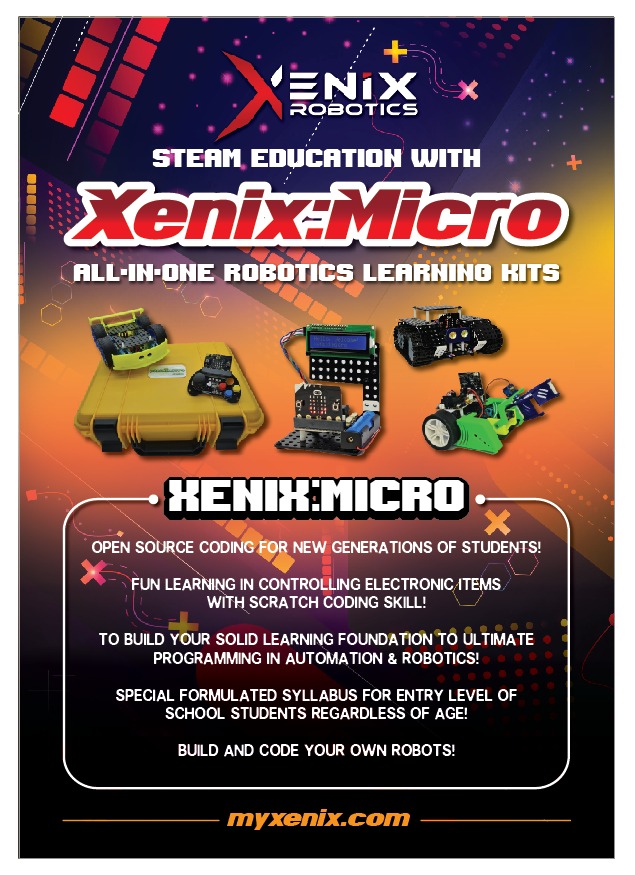 学习xenix:micro的好处:
1.  学员可以从中学习电脑知识,课程里包含了电脑基本知识,电脑如何操作,以及包括了Microsoft Word, Microsoft Excel, Microsoft PowerPoint等等。
2.  Xenix: micro让学员能够有自己的创意与设计空间,没有任何的限制。在设计机器人模型方面,学员可以发挥自己的想象力来设计及编写程式,老师也会在旁给于指导。
3.  Xenix:micro课程目标是让现代的学员可以认识所有有关机器人的知识,从课程,比赛,设计项目及编写程式认识更多,更广的知识。
4.  Xenix:micro其中的课程里,学员可以在学习的过程中,通过演讲的方式,增加自信心与沟通的技巧,以完成每一个STEAM课程的设计项目。
5.  Xenix:micro的学习方案,不只是在于机器人学习,也训练学员们的个人纪律和态度。经过Xenix Robotics长年的研究,我们研发了一系列的系统,让学员可以培养纪律。
6.  父母不再担心花费昂贵的价钱来购买学习配套。Xenix:micro以合理的价钱介绍给学员们。父母还可以在每个课程完毕后,了解学员在工作坊里所学习到的资料。 
Xenix Robotics Workshop 也有成人机器人研究课程哦!有兴趣的你,赶快与我们联络!

免费两小时试课 
!
FREE Robotics Learning Kits worth RM520! 
Yes, it's FREE! 🎁🎁
our Wangsa Permai Workshop. (T&C applies)🕹
Do you worry about buying expensive robotic learning packages?
Looking for a robot education centre suitable for kids?
Xenix Robotics Workshop is located in

Wangsa Permai, Kepong
The 

FIRST

professional Humanoid Robot and Sumo Robot workshop in Malaysia.
Too far? Inconvenient transportation? Time issue?🤷‍♀️
Don't Worry! We can help! We deliver the learning kits to your doorstep.
Children can learn the lessons online!
Introducing Malaysia's First Unique Robotic Learning Kit
🏆"THE XENIX:MICRO ROBOTIC LEARNING KIT"🏆
Xenix:Micro

is formulated from the Micro:Bit which is from the UK. It is Xenix Robotics special tailor-made Robotics Educational Kit for children (adults too!) to learn programming.
Currently, more than one million students all over the world are learning Micro:Bit programming which incorporates STEAM electronics and robotics creativity. Micro:Bit has many in-built familiar devices such as Bluetooth, Micro USB ports and etc.. It also comes with a Micro Computer Unit (MCU) that allows children to gain programming and electronic knowledge at the same time with the Xenix:Micro special integration of software and hardware learning syllabus. Our specialty area is in Humanoid Robot and Sumo Robot. Learning is no longer limited to software platform.
Xenix:Micro is a Robotic Learning Kit which is specially designed for modern young generation of students

. Xenix:Micro follows the STEAM (Science, Technology, Engineering, Art & Mathematics) educational concept. 

Xenix:Micro 
is specially designed and formulated in such a way that allows student to ultimately learn :-
a)  Scratch coding, Arduino and Python programming (All In One Course)
b)  Practical knowledge in electronic hardware (actual soldering and wiring) 
c)  Understand basic physics in electricity
d)  3D drawing to design and the assembling of Robots (Your children's ultimate very own design and assembling of Robots for competition!) Xenix:Micro is a true STEAM Education Kit, as it fulfills the criteria of Science, Technology, Engineering, Art and Mathematics.
🎯🎯🎯🎯🎯🎯🎯🎯🎯🎯
Not only that, advance students would also have the opportunity to participate in various robotics research and development program including the Humanoid Robot designing and programming especially developed by Xenix Robotics.
Unlike other closed concept learning, Xenix:Micro is based on an open source concept to specifically allow students to have unrestricted creativity in gaining programming and electronic knowledge without being restricted by textbooks or courses so as to be able to design robot models or cars where imagination is the only limit.
Xenix:Micro syllabus and learning kits includes an easy forward upgrade learning path which is economically designed (as it based on open source) to minimize the overall learning cost as the Xenix:Micro kits can be utilized for approximately two years. The Xenix:Micro unique Robotic Learning Kit alone includes 4 courses (stages) from STEAM ONE to STEAM FOUR. 
The main advantages
 of learning Xenix:Micro
1.  Our courses include basic computer knowledge, how to operate the computer and basic learning of Microsoft Word, Microsoft Excel, Microsoft PowerPoint, etc.
2.  The goal of Xenix:Micro course is to enable young generation of modern students to gain a complete INTER-RELATED knowledge and understanding of robots with our specially design courses with students self-designing and programming the robot based on their own creativity, selection of electronic parts, selection of hardware parts, self-wiring up the robots before sending the robots for actual competitions locally and internationally. BUILDING A ROBOT ALL ON THEIR OWN! (Your children will make you proud!)
3.  Xenix:Micro courses also encourages students to increase their self-confidence and communication skills as team work and team interactions is required for the learning process to complete each STEAM project.
4.  Xenix:Micro is not only about learning programming or about robot learning, but is also about instilling students personal discipline and attitude as we would be dealing with electrical item and electronic tools. After 8 years of actual building Robots together with students, we at Xenix Robotics understand and knows how to instill discipline into students. With discipline and the right attitudes, we will go and win competition as well as we have won many championships in the previous years!
5.  Parents no longer need to worry about spending excessive funds to buy learning kits.
Our open source Xenix:Micro is specially cater to students at affordable reasonable price. Parents will be able to follow and discuss their children's learning progress as well after the completion of each course.
6.  Xenix Robotics Workshop also cater to working adult to learn and join our Robotics Class Too! If you are interested, please contact us as soon as possible! Free two-hour trial lesson!